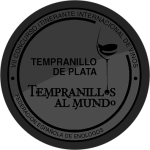 Tempranillos al Mundo
New York 2011 SILVER
Wine: Red
Category: Young
Brand: Sodupe
Variedades: Tempranillo 100%
Average age of the vines: More than 30 years
Date of Harvest: First two weeks of October.
Production: Barrelling of the destemmed grape and pressing at approximately 12 days.
Alcoholic Fermentation: Spontaneous, with wild yeast, at a controlled temperature of 25 ºC.
Malolactic Fermentation: Spontaneous, 18 days.
By tilting the glass approximately 60 degrees and on a white background, we can see a mid-high layer formed by intertwined picota cherry red hues. Swirling the glass away from us in a circular direction from the centre, we find blue tones, with hints of rich and bright purples as we get closer to the meniscus.
Holding the glass still, we can get an idea of this wine's potential, sensing the admirable complexity of fruit and aromatic cleanliness. By swirling the glass, we get aromas of fleshy fruits such as cranberries, raspberries, …and black fruits such as blackberries or redcurrants.
On the palate, it matches the nose with flavours of fruit compote with notes of almonds. It is an intense, full bodied and well-structured wine; the tannins are long and velvety which, together with the legs, give it an exceptional volume.